***UPDATE***
9/26/16
Due to popular interest, I have decided to open up a couple more dates for mini sessions in Apple Hill.  Please email smile4mandi@gmail.com to inquire about availability.
---
It's still in the triple digits outside, and summer isn't quite over just yet but believe it or not fall portrait season is right around the corner!
This year, I will be offering several different mini session events – perfect for snagging that awesome Christmas card picture or updating your yearly family portrait.  I will be posting more details about this over the next couple of months, so make sure to stay tuned!
Do you follow Mandi Pol Photography on social media?  Please do!  I'd love to meet you and follow you back, plus I'm always posting updates over there and it's a great way to keep in touch with me and to learn about updates with mini session events.
I am planning to start the fall photo season with apple orchard minis.
Session fee is $150 and includes 8 digital image downloads.
By far, one of my most favorite places to take fall portraits would be Apple Hill!  I have so many happy memories of visiting there as a child, going apple picking, and of course eating all the apple things!  Over the past couple of years, I've made a tradition of photographing families at one of my favorite orchards there.  Every year I make sure to come home with an apple cheesecake and I always have a great time.  I've found that many other families around the Sacramento area share my nostalgia for Apple Hill, and the beauty of this spectacular location is truly outstanding.
I might be scheduling another weekend of these mini sessions if there is enough interest.  So if you can't make it that weekend in September, just talk to me!  I bet we can work something out.
I will be visiting Apple Hill September 23-25 and I am pre-booking Apple Hill Mini sessions for a session fee of $150.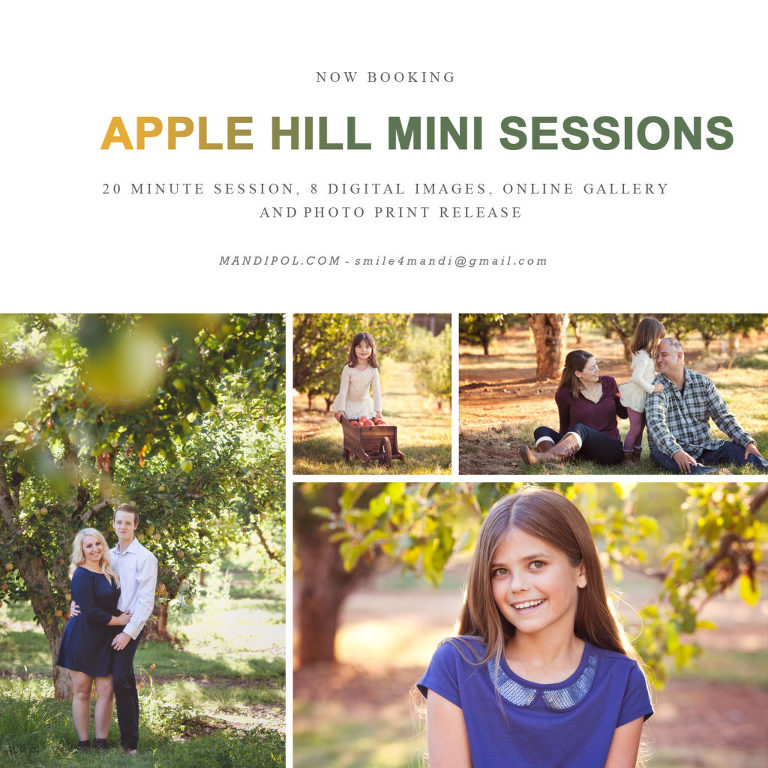 Come meet me at what I consider to be the most beautiful apple orchard in Apple Hill.  I will have everything set up at the spot, ready to go.  Vintage crates and apple picking accessories.  It's going to be super cute!  These mini sessions are perfect for families, children, babies (6 months+ who can sit up unassisted), maternity, and couples.
We will be shooting for about 20 minutes.  This is enough time to try about three poses.  This session is for up to 4 subjects.  Each additional subject is $50.
After our session, I will give you an online gallery full of images from our shoot, and I let you pick your 8 favorite pictures, and there will be an opportunity to purchase even more images if you would like.  I edit and retouch everything and then email you your downloadable images.
To book, please email smile4mandi@gmail.com
Please remember that spaces are limited!
---
If Apple Hill is too far away, or maybe it's just not your style.  I'm always booking similar mini sessions over here in Sacramento and Roseville!