This blog post is dedicated to some of my favorite spots to take pictures around the greater Sacramento/Roseville area.
Everywhere I go, I'm location scouting.  Whenever I leave the house (literally for any reason!) I'm examining the light and my surroundings and imagining a photo shoot there.  I check out every field and wonder if I could convince a client to hike into it.  I check every alley and corner (Oooooh!  That spot has nice lines and would make for an interesting composition!).  If I see a fallen tree I think, are there rattlesnakes over there?  I see a brick building and I automatically wonder if that's private property and if I would get in trouble for trespassing.  I feel very fortunate to live in a beautiful place like Roseville and I feel like the location options around here are unlimited.
If I take two steps out of my front door, I can see several potential locations to photograph.  This is due mostly to the fact that Roseville is amazing and the landscaping around my neighborhood is gorgeous.  I live within walking distance of three parks that I frequently shoot at.  I use this spot all the time because it offers both green grass and dry golden fields at the same location.
However, most of what makes this spot so great is the simple fact that I am very familiar with the the way the lighting hits here.  I feel like any location has the potential to be a great one, if you know how to optimize the lighting.
Here's a great example of making the best of an ordinary location by using the light to my advantage.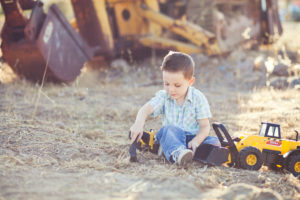 A couple years ago, there was an old abandoned backhoe parked in an empty field down the street from my house.  At the time, my son was 3 years old and he was obsessed with big trucks, his favorite show was "Mighty Machines", and he was fascinated by the machinery used in construction.  Every day we would drive by this abandoned backhoe and Lex and I would talk about it and I came up with the idea to go have a photo shoot next to it.  I would never bring a client to this spot.  It is simply an empty lot covered in litter across the street from a busy gas station.  The backhoe was covered in cobwebs and it was- for lack of better terms, just really gross.  However using the right angle and equipped with the knowledge of when the lighting would be perfect, I was very pleased to be able to capture a one of a kind portrait of my son with his favorite interest.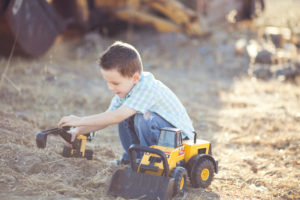 Just sayin' guys, remember when you are out there location scouting, that it is all about the light!
---
In no particular order, here are some of my favorite locations to photograph in the Sacramento area –
Land Park
This park is absolutely gorgeous!  It is green and has big beautiful trees as well as a cute duck pond.  During the fall months the trees will change colors and in the spring time, little daisies pop up in the grass.  There's no wonder why this spot is so popular for family photos!

Old Sac
Old Sacramento tends to be very crowded but it really is a lovely place to photograph!  And you don't have to just take my word for it, any day of the week you will see a line of photographers present.  From the cobble stone roads and wood plank walkways, to the cool shops and restored historical buildings, there are endless opportunities for backdrops here!  Just remember to bring money for parking.
The Beach
I love bringing clients to various "beach-y" spots around Sacramento.  Folsom Lake and the American River are amazing.  It doesn't get any prettier than these locations and it is so much fun to take pictures next to or in the water.  These spots will require a bit of a hike to get to them and paid parking, but they are truly worth it!
---
Since my studio is located and I live in Roseville, I've found there are a ton of amazing locations here if you just look around.  Some of my favorites are-
Baquera Park
I loooooove shooting at this park.  This is probably my #1 most requested location.  There is a cute little bridge which makes a great backdrop for family portraits and a oak tree lined nature trail behind the park.  The trail is paved and is a very easy walk to some beautiful rustic scenery.  During the summer the landscaping here is beautiful and I love that it "looks like fall" here in the fall.  This spot is very popular with local photographers and I'm probably over here shooting clients at least once if not twice a week.

Dry Creek
Located in West Roseville (right on the border of Antelope), this spot is great if you are looking for something rustic but don't want to go on a crazy hike to find it.  This park has big open fields, a creek, a nature trail lined with big trees, and during the spring time you will find plenty of beautiful wildflowers.  In the evenings, the light here is nice and golden.  Try shooting here about 30 minutes before sunset and the lighting is to die for!
Old Roseville
For clients that are not fans of the golden grass/rustic feel- my go to suggestion is always Old Roseville.  This spot has a variety of great backdrops and charm.  The old bridge, Royer Park, downtown Roseville, and all the brick buildings make it a very popular place for family portraits.
Quarry Park
Located in Rocklin, this spot has lots of green grass, absolutely beautiful landscaping with pretty flowers, and several great park benches and cool stairs where I can have you sit (which are great for family poses).  This park was just recently built, and I look forward to bringing many clients here in the future.  I can't rave about it enough!