I had a wonderful time capturing senior portraits and family portraits of some of my favorite people last week.  We met at Sac State's beautiful campus and I couldn't have asked for a nicer spring evening to take pictures.
My best friend graduated this weekend from Sac State, Summa Cum Laude, with High Honors, and it was so special to be able to take her senior portraits and watch her get that diploma.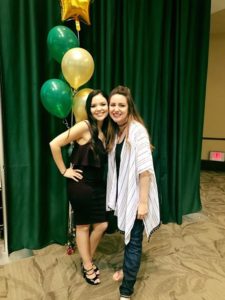 I absolutely loved that she wanted to include her family in her senior portraits, because they were very much a part of her journey to graduation. As a Sacramento senior portrait photographer, I always encourage my clients to bring their parents with them to their senior portrait sessions, because I think these family portraits are tremendously special.
I first met Fiana when our kids were babies. I was drawn to her sweet heart and found that we had a ton in common. Five years ago I was a young mom with a BIG dream to open my very own portrait studio. While working my day job as a dental assistant, I was also dabbling in photography – working as a second shooter photographing weddings on the weekends.  I hated every minute of working in dentistry.  When Fiana and I we were introduced by a mutual friend, we learned that we had both attended the same college and instantly hit it off.
Fiana also was a young Mom who was unhappy working as a dental assistant, and I found that like me she was a dreamer too. After bonding over our miserable jobs, we chatted about our goals and what we truly wanted to do with our lives. I shared with her my desire to go full time with my photography career. My entire life, I've felt a longing in my soul to be creative. I told her how I dreamed of photographing babies and bringing joy to people by capturing memories that families will cherish forever. She told me her story of how she immigrated to this country when she was a teenager, and how her struggles have filled her heart with compassion towards women and children struggling with poverty and domestic violence. She dreamed of becoming a social worker so she could help speak up for the underdog- for those without the ability to do so for themselves. She told me that in order to become a social worker (just like the ones that had helped her with her own journey to California) she would have to attend several years of college and that was very intimidating to her, especially since she had a baby to care for. I encouraged her to follow her heart because there was not a doubt in my mind that she couldn't achieve any goal she sets her mind on- especially after hearing her story and seeing how important this calling was to her. She also encouraged me to follow my dreams.
Ever since that first conversation where we talked each others ears off, we have been inseparable ever since!
Having friends that encourage you to be your very best is absolutely immeasurable. I am extremely fortunate to be surrounded by the most amazing friends, and Fiana is my very best one. She inspires me, she supports me, and she has become a sister to me. Every time I feel down, she encourages me to keep chasing after my dreams. Her smiling face and heart bursting with compassion lights up every room and touches every soul who meets her. And with that spirit she is going to do amazing things as a social worker and social justice warrior.
I mentioned earlier that Fiana came to this country as a teenager. The details of her journey as an immigrant are incredible and very inspiring. Her mother left her career, extended family, and entire life in El Salvador to become a refugee in America, and this new life was very difficult for her when they moved here to the Sacramento area. She was a single mother of two, who like Fiana and I, had a BIG dream in her heart. Life as an immigrant was full of challenges and heartache, but the hope for a better future for her babies carried her through the difficulties. She yearned for a life where she, her children, and future grandchildren did not have to live in fear of the atrocities of war and gang violence. A life where her babies could grow up to earn college degrees and be successful in their chosen careers.  My heart is bursting with joy to be able to say that Silvia's dream is now a reality because of her perseverance and courage.
Fiana decorated her graduation cap with butterflies, because she spent her college days taking classes in the "Mariposa Hall" and found a lovely quote that describes her college journey. For those of us who do not speak Spanish, Her cap translates as- "And when she decided to fly… The Butterfly opened her wings, she reached the sky, and defeated the darkness".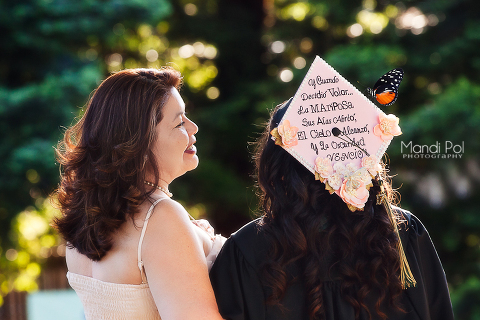 Congratulations again, on your achievements Fiana. You did it!!! Xoxo