I wanted to share a couple photos from Halloween.  And have some stuff to say.
This year is actually my sweet Lex's second Halloween.  At this time last year, he was only a couple of weeks old.  Even though I did dress him up last year, we were unable to make a big deal out of it.
To me, the most wonderful part of being a mother is the fact that I get to experience the holidays in a whole new way (and life for that matter).  I am absolutely the happiest once the weather starts cooling down.  Fall is MY season.  I love everything about this time of year.  I love the escape from the Sacramento hot summer.  Being a photographer, I go crazy for all the beautiful light and gorgeous colors of the changing nature.  I adore all the fall traditions we have.  I also love fall because its arrival marks the beginning of the holiday season.  I am just like a retail store.  As soon as Halloween comes and goes, I start gearing up for Christmas.
I have always really enjoyed Halloween and all the winter holidays, but now that I have my own family I am able to start my own traditions, and I am rediscovering the magic of these special days.
One of the new traditions we started this year was attending our church's annual harvest festival.  Lex and I had so much fun.  Unfortunately, Alex had to work on October 31st of this year.  Alex doesn't get home from work until much after our little pumpkin's bedtime, so he was going to have to miss out on all the dressing up and candy this year.  However, because he works literally next door to our church, he was able to spend his hour long dinner break with us at the festival.  It was such a blessing!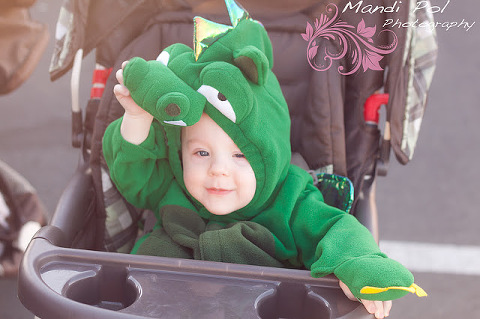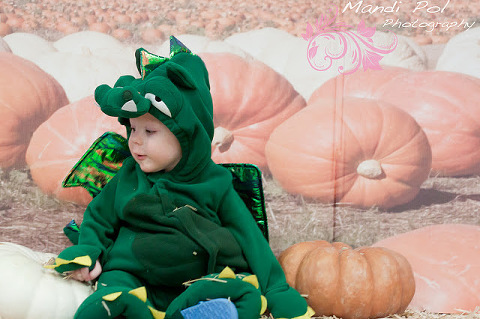 They had this cute pumpkin backdrop set up, Lex kept on trying to eat hay, and wouldn't look up at me.  We've definitely hit the milestone where he is over having his picture taken constantly.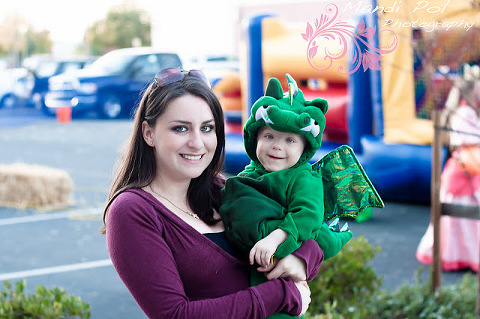 Well, now that we are all done with Halloween, and I have polished off most of my child's trick or treating loot, I am starting to get ridiculously excited about Christmas time.  I know Thanksgiving is next, but I just LOVE everything about Christmas.  I think these two holidays should just get together, create a love child, and make me incredibly giddy.  The more words I type, the more I long to make Christmas cookies and annoy the heck out of Alex with my off key rendition of "Silver Bells".  Dang, now I have developed a serious craving for some eggnog.
I have several upcoming Christmas Card photo shoots, and have plenty more spots for whoever else is interested.  I will probably start running a special here pretty soon.  Let me know, because I have a TON of ideas, and recently invested in some pretty cool props and backdrops.