On Saturday, I threw my son a Mickey Mouse party for his first birthday.
It was a blast.  My only complaint is that I got too wrapped up with everything to take pictures and document everything like I should have.
Lex's favorite cartoon is Mickey Mouse Clubhouse.  Every morning we watch an episode together.  As soon as he hears the theme song, his little face lights up.  I wanted to give him a Mickey themed party, but I didn't care for any of the party decorations I found for sale.  I was able to create the classic Mickey party that I envisioned by DIYing all the decorations.
Along with the decorations, I made each of Lex's cousins and little friends their own set of mouse ears.
To entertain our little guests, I printed coloring pages out.  I was afraid they would get bored quickly with coloring, but this was not the case thankfully!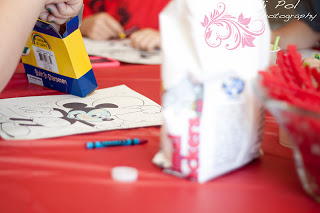 The other activity I planned for the kids was to have them use "Mouse-ka-tools" to excavate dinosaurs from ice.  This was a WONDERFUL activity for the kids.  I highly recommend doing this either at the next kid's party you are throwing, or just for fun with your own kids.  It did require me to do some preparations before the party, freezing cheap dinosaur toys into ice chunks.  But overall, it was a very easy, cheap, and fun game for all the kids.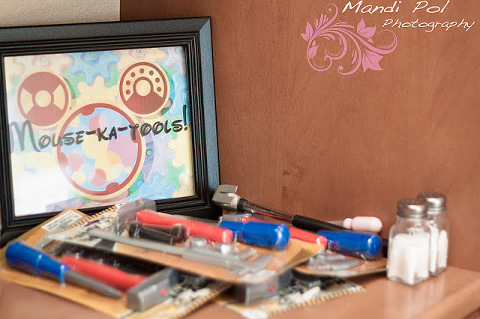 I prefaced this saying I was disappointed with my pictures.  Oh well, here are some of my homemade decorations.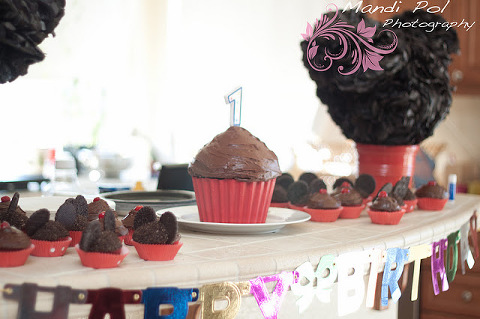 Personalized waterbottles added a really nice touch.  They were super easy to make, I followed a tutorial I found online.
For snacks, I made caramel apple dip, various candies, veggie dip (in convenient little cups-no double dipping!), mickey cookies, and PB&J & grilled cheese sandwiches shaped like Mickey
 I set up a "Hot dog, hot dog, hot diggity dog!" Hot dog bar.  This was fun for the kids, and because I used gourmet sausages, with a great variety of toppings (everything from saur kraut to chilli cheese) it was great for us grown ups too.
 I was very pleased with the cake and cupcakes I made.  Cocoa cake stuffed with marshmallow creme filling with fudge frosting.
 
Lex should have been more excited about present time, because our family was soooo generous and gave him some great stuff.  He was a tad overwhelmed with everything, but these pictures are so cute I had to share. (Taken by my sweet little sister in law)
However, he did enjoy playing with his new toys the next day!
I had everyone watch this on our big TV at Lex's party.  It made my mom cry.  I thought it was pretty neat to see my little preemie turn into a little boy.