Please see current pricing 🙂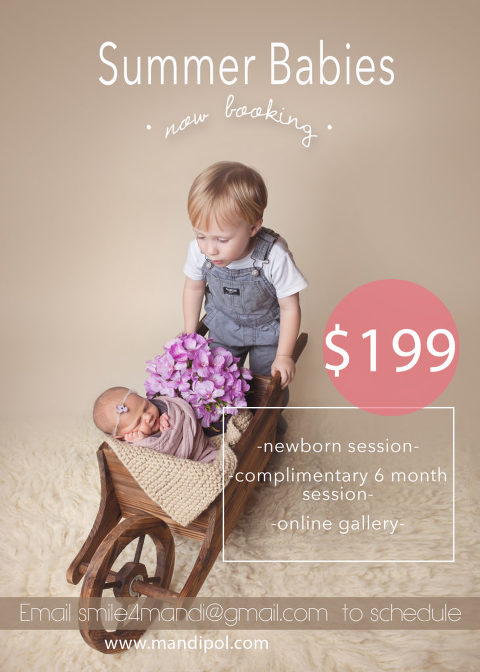 Mandi Pol Photography is running a great special on newborn portraits for all the Sacramento summer babies getting ready to be born!
Pay your retainer fee and book your newborn session before the end of August 2016, and you will receive
discounted rate on newborn portrait session fee ($100 off!)
Spaces are very limited!  And please remember that the best time to book a newborn session is while you are still pregnant.  Please email me if you have any questions and would like to learn about my availability!
Newborn sessions take place at my studio located in my home in East Roseville.  I style each of my newborn sessions and customize each one for your baby and your family.  I love creating creative sets and I have a huge collection of props for you to pick from.  Newborn sessions typically take 2-4 hours.  I will pose baby on 3-4 backdrops, include optional sibling and/or parent poses, 10 digital downloads, and an online gallery.
Click here to find out how to add Mandi Pol Photography to your baby shower registry.  If you plan to gift an expecting mother in your life with the gift of newborn portraits, if you do so before this offer expires, they will receive a free 6 month session as well.