This is the lazy smart mom's guide to making an awesome third birthday cake.
About 3 years ago, when Pinterest first came out, I remember seeing a picture of an awesome cake in the shape of a 3 and covered in M&Ms.  I'm sure you guys have seen it floating around too.  I knew then that when my little boy turned three, I wanted to make him that cake. 
Well, October 5th was right around the corner, I needed to make my Bear something fabulous, and I was quickly running out of time.  The night before my son's birthday I made a mad dash for the cake mix aisle at the grocery store.  The original pin calls for two bundt cakes, and then you cut and arrange them in the shape of the number 3.  As I was trying to calculate the amount of ingredients I would need to fill my big bundt pan, I came up with a genius idea.  I knew that WINCO sells really yummy pre-made bundt cakes, and they are the perfect size.  I bought all of the ingredients already made, and planned on just assembling and decorating.
Originally, I planned on a butter pound cake with chocolate frosting, but I was really pressed for time and forced to bring my very opinionated two year old with me.  (Have I mentioned lately, that I am SO thankful that we are leaving the terrible twos!)  He insisted on lemon cake and blue frosting.  So I passed on my original idea and my Bear got what he wanted.  I picked the M&Ms off of my cake, but it tasted pretty good!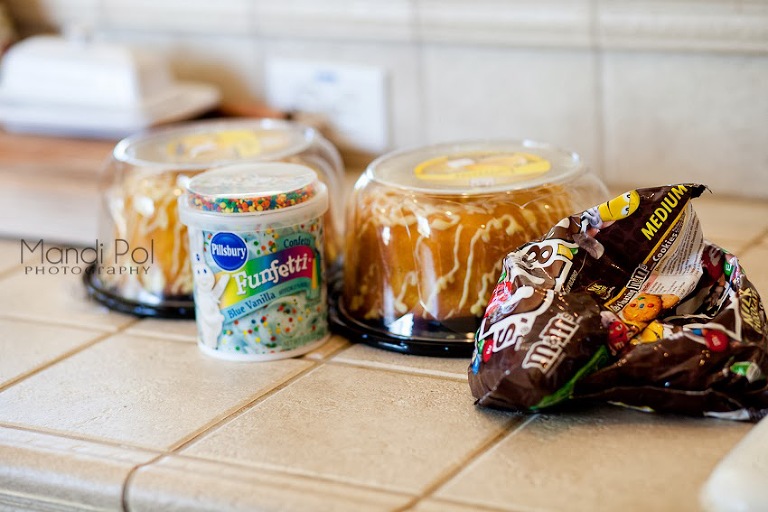 The cake making/assembly was easy!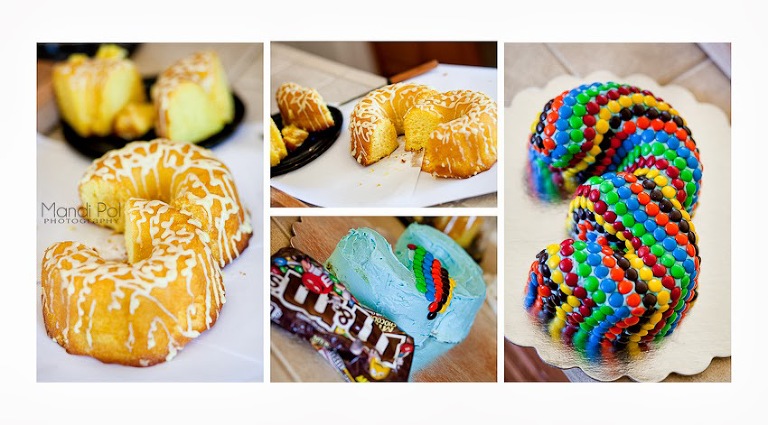 First I opened my store bought cakes and cut off a little from each.  I placed them together on a cake tray covered with paper (to keep the tray clean when frosting).  I gave it a crumb coat, chilled for 30 minutes, and gave it a second coat of frosting.  And then it was time for the M&Ms.  I sat down, tuned on Netflix, and arranged the candies (M side down) in a swirly rainbow pattern.
This cake turned out so cute!  And believe it or not, it only took me 2 episodes of Call the Midwife from start to finish.
Little Bear loved it.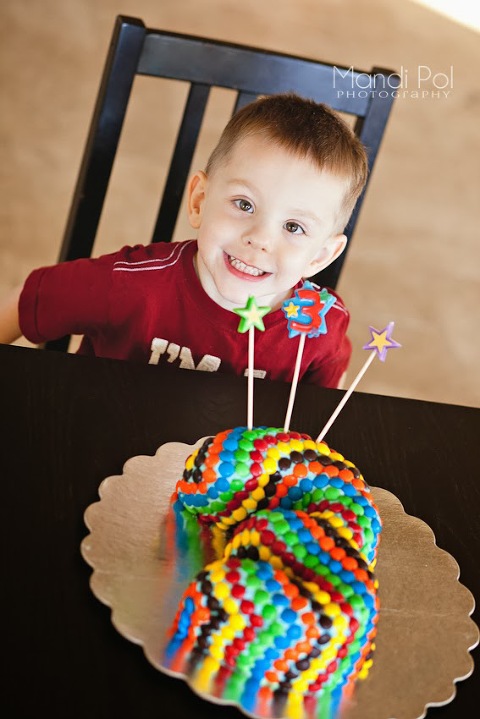 Win.